Hisense B7500UW is a smart TV (2) that supports 4K (3) and is released by state-owned Chinese manufacturer (1) Hisense (4). This is a company that holds an unparalleled growth in the past years (5). The model B7500UW is available in 43″ 50″ 55″ 65″ (6) (8). In our research, we consider it a very price efficient product (7) that while it offers less brightness (11) than its competitors when measured in nits and candelas (10), it comes at a much lower price (9).
With all these factors in place similarly sized TVs can vary a lot in price, for example $300 to $3,000. So where exactly is the sweet spot where the TV offers the most value without paying for any extra money?
So we are testing the Hisense B7500UW in its 50-inch product variant, that is identified as H50B7500UW. The local Hisense distributor sent us a 50-inch model, and we cannot request the dealer another model with more or fewer inches. The review applies to the product line B7500 that can be B7500UW or B7500UK and to all the different inches of screen.
The Hisense B7500UW costs about 450 British pounds and 400 dollars in the US, which is the price bracket of not cheap, but affordable 50 inch TVs but also the amount of money that will get you some cheaper 55 inch models.
This company has a reputation of making devices that offer a good quality/price ratio many of which we have had a chance to test before. So current B7500 line of TVs also aims to offer the best bang for your buck.
Available sizes ranged from 43 inches up to 75 inches, but for our tests we have received the 50-inch model sent by the local distributor, as we have described above.
Ergonomics And Workmanship
I like the aspect of these TVs like this Hisense B7500UW. It is completely made of plastic. However, it is a quality plastic, so the build quality was not compromised in any way and to make it look more expensive, Hisense made the bottom bezel and the stand look like a brushed aluminum, but it is also standard plastic that looks fine and does not feel cheap to the touch.
Perhaps it is very square, and a bit unusual since curved lines are the current trend, although its sharp edges do not make the TV look indifferent to us.
The back of the stand also serves as a cable management system. Speaking of cables, all the connectors are available on the side for easier access.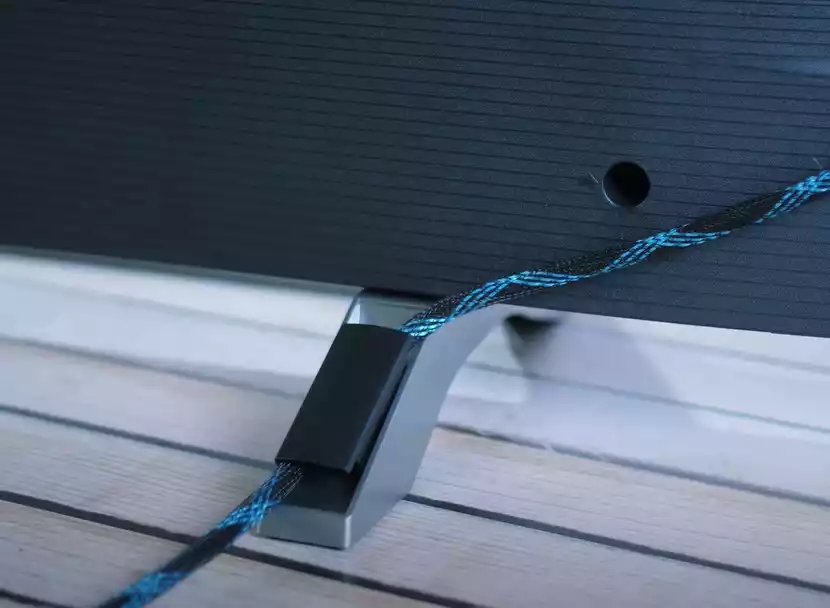 Furthermore, you will find on the back of the device three HDMI 2.0 ports, two USBs as well as antenna and satellite connectors. Also an optical audio input.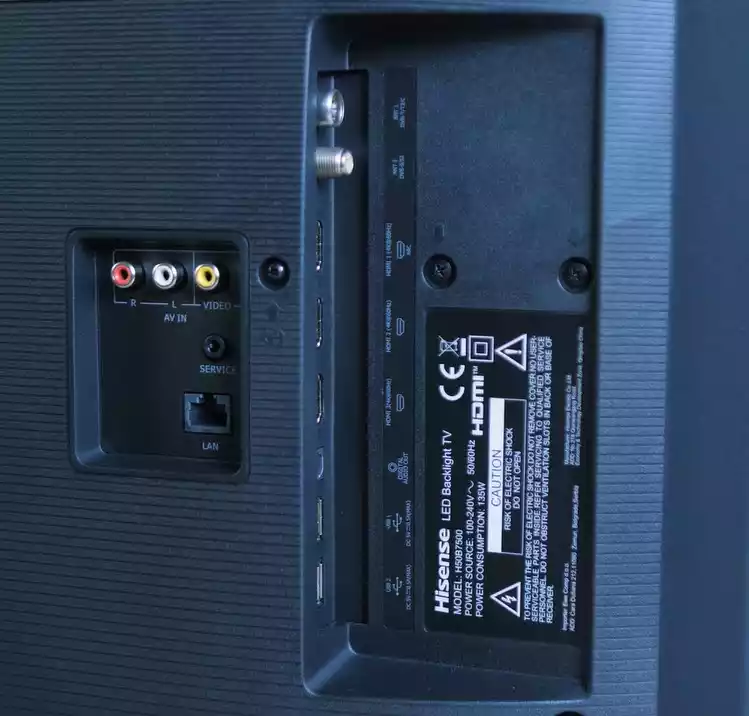 A small separate section on the back also contains composite input as well as local area network port. Above it there is also a common interface bus.
The TV is of course equipped with Bluetooth and 2.4 and 5 gigahertz Wi-Fi. The screen is surrounded by a frame with the seamless unibody design.
Even though there is no protective glass and there is also an additional two and a half centimeters (one inch) wide black margin between the frame and the actual portion of the screen that displays the picture, for structural reasons, but also we guess, so the color black contrasts with the rest of the layout.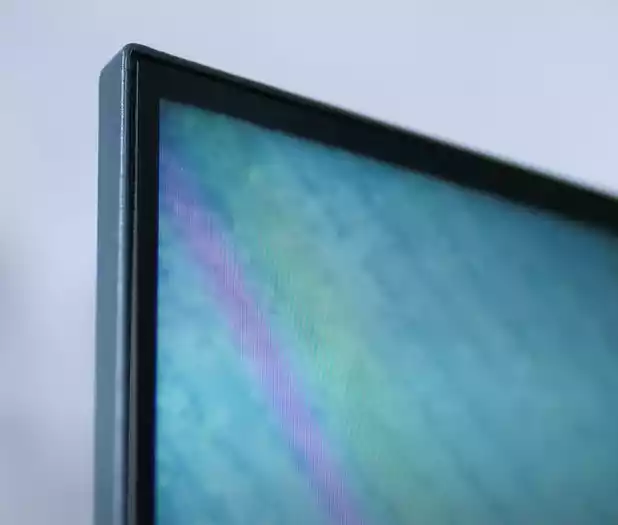 Image Quality Of The Hisense B7500UW
The screen is not particularly reflexive, which is good news for those who use the TV in rooms with the strong light source. As we expect from Hisense, the TV comes with a very high contrast VA panel (vertical alignment panel). We measured it at 5200:1 and it certainly gives this TV a great score.
Even though it is equipped with a direct LED backlight, the Hisense B7500 does not implement any local dimming, but only a dynamic control of all the back lights, so the black levels will vary depending on whether you are watching a brighter or a darker scene.
The maximum brightness is officially 300 Nits (300 candelas per square meter) according to the specifications, although the Hisense B7500 achieved for us 370 in our measurements. Pretty good but still a bit short of HDR 400 requirements. It can of course map the dynamic range to the one that the TV is able to produce while offering support for all the current HDR standards.
The display or panel has 10 bits per color channel, actually 8 bits + FRC (Frame Rate Control).
This is where B7500 is even ahead of a more expensive u7b model (as we tested also the Hisense u7B of 50 inches) while also offering a more accurate color reproduction.
Cinema night mode gave us a "Delta E" deviation of 2.3 which is a good accuracy we will come to expect from Hisense and traditionally, one of the brand strong points.
As usual, we test with a James Bond movie in the snow and the game Red Dead Redemption for the "dirty screen effect". We have not noticed this defect in our examinations.
Refresh Rate Of The Hisense B7500UW
The refresh rate is 60Hertz expected at this price since 120Hertz is reserved for much higher price points. But it is important to note that this model offers practically all the important image processing algorithms like proper 24 FPS movie format with reduction and fixing blur and stutter which can often be missing from non high-end models.
Sound Quality
Sound is pretty loud and offers a good balance throughout the frequency spectrum but only up to a point. There is however a bass boost option as well as a five band equalizer that can somewhat compensate for this and make the sound pretty decent.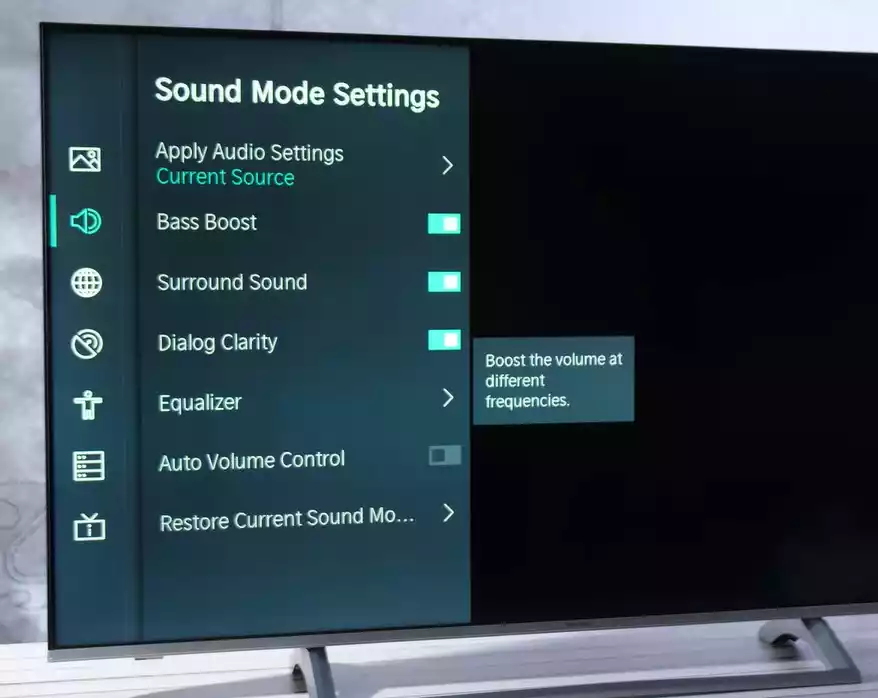 Smart TV Capabilities
As for its smart TV capabilities, the Hisense B7500 comes with VIDAA U3.0 OS. This is a somewhat redesigned version 3.0 which aims for a simpler user interface that will allow you to access any option or app in three steps maximum.
You control it by a standard remote control that comes with plenty of keys for direct access to most often use functions. It has dedicated keys for YouTube and Netflix.
Regarding the operating system VIDAA, this is not the article where we discuss and compare the operating systems of smart televisions. Let me tell you that VIDAA, although visually not as exciting as Tzyen or WebOS operating system, it is practical for everyday use and also pretty fast thanks to its simplicity.
TV is run by a quad-core processor whose limits you may notice in certain moments in the form of a slight stutter in scenes that are harder to process but it generally does an okay job at this price point.
The redesigned app store contains a selection of video and music services. It has useful apps, some simple games and content for kids. But quite far from other operating systems that are superior.
Conclusions
The Hisense B7500 leaves a good impression in everyday use. Users would probably not notice any significant difference in image quality between these TV and more expensive models with similar or with superior specifications.
There are TVs with much higher maximum brightness, but they cost almost double. Therefore, this model is one of the bests in terms of value for money. If you want good quality and a very affordable smart TV, then this model of Hisense will be a good choice.
Specifications Of The Hisense B7500UW
Available in 43″ 50″ 55″ 65″
Model
Display
Resolution
Ultra HD 3840×2160
Panel Bit Depth
8bit + FRC
Peak Brightness (nits)
N/A
Refresh Rate
60Hz (SMR 100)
HDR (High Dynamic Range)
Dolby Vision™ HDR, HDR 10, HLG
Processor Features
Processor
Quad Core/MSD6886
Decoder
HEVC (H.265), VP9, H.264, MPEG4, MPEG2, VC1, MVC)
3D Digital Comb Filter
Yes
Audio
Audio Enhancement
Dolby Audio(MS12), DTS Studio Sound
Smart Service
User Interface
VIDAA U 3.0
Remote One Touch Access
Netflix, Prime Video, Freeview Play, YouTube, Rakuten TV
Connectivity
Digital Audio Output (Optical)
Yes
RF In (Terrestrial / Cable / Satellite Input)
2
TV Tuner / Broadcasting
Digital & Analog Tuner
DVB-T2/T/C/S2/S
Convenience
Media Player
Yes (Video, Audio, Picture)
Multi-Language OSD
English, German, French, Italian, Spanish, Portuguese, Dutch, Greek, Russian, Czech, Slovakian, Slovenian, Lithuanian, Latvian, Estonian, Ukrainian, Polish, Romanian, Hungarian, Bulgarian, Serbian, Croatian, Bosnian, Albanian, Macedonian, Swedish, Danish, Finnish, Norwegian, Icelandic, Belarusian, Uzbek, Turkish, Arabic, Montenegro, Albanian
Eco & Power Supply
Power Supply
100V-240V 50/60Hz
Power Consumption (In Standby)
≤0.5 W
Lead Content
Yes – this television contains lead only in certain parts or components,in accordance with existing exemption clauses under the RoHS Directive.
Weight & Dimensions
Product Weight (Packaged)
17.5kg
Product Weight (With Stand)
11.7kg
Product Weight (Without Stand)
11.0kg
Dimensions (Packaged) (W X H X D)
1252 x 788 x 190 mm
Dimensions (With Stand) (W X H X D)
1112 x 693 x 235 mm
Dimensions (Without Stand) (W X H X D)
1112 x 642 x 70 mm
Distance Between Two Feet on Stand
603.5mm
VESA Wall Mount Compatible
200x200mm
Accessories
Batteries (Remote Control)
AAAx2
DMP Format
Picture
.jpeg,.bmp,.PNG,.GIF,.webp,.mpo
Video
.AVI, .WMV, .MP4, .MOV, .3GP, .MKV, .MPG, .MPEG, .VOB, .FLV, .WebM, .VRO, .OGM,
Container Formats
AVI,MP4,MKV,TS,FLV OGM
Audio
.wma,.wmv,.mp4,.FLAC,.MP2,.MP3 music (mp3 aac wma wav)
Recommended Articles
Our audience is interested in high-end devices, such as headphones with detachable cables, because you would not be losing sound quality with them.
We discuss the dirty screen effect and how to solve it. We explain to you why do we think that actually manufacturers are not really interested in solving this issue.
We explain how to choose projection screen material, for DYI projects and for large events where you would not find large projection screens in retail stores.
We have reviewed many receivers. Our recommended articles are our review of the Marantz SR7009 and the Onkyo TX-RZ820.
We have not reviewed many smart TVs. From those, however, in terms of price efficiency, I would like to recommend the Hisense B7500UW.
My favorite bookshelf loudspeaker is the Wilson Audio TuneTot and therefore we hope you like that review. We have also compared the Elac B5 vs the Elac B6, and do not think that the B6 is necessarily better in all the specifications compared.
In regard to connectivity and cable management, we discuss the connection between Firewire and HDMI.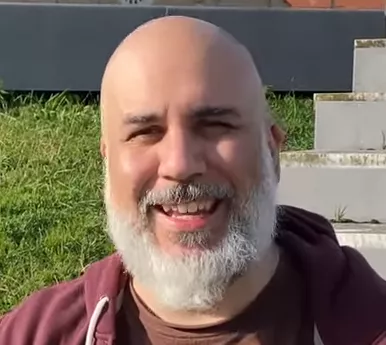 I am Chris, a musician. I work as an audio engineer in mastering and arranging bridges in existing songs and the arrangement and orchestration of chorus. In Firing Squad I test gear provided by local distributors during a couple of days and write a review. I also write about AV topics, amplifiers, speakers and headphones.