How To Decide Between The ELAC B5 and the ELAC B6 ?
For smaller rooms or if loudspeakers shouldn't be so much in the field of vision, it is worth taking a look at the more compact bookshelf speakers. With the B5 and B6 , ELAC has two models to choose from, which like all Debut 2.0 loudspeakers also have a black cover. As these models are so similar, we want to compare ELAC b5 vs b6 and see their differences:
In the ELAC B5 vs B6 discussion, the differences between B5 and B6 is that B5 is cheaper, slightly smaller, lighter, and has a lower sensitivity. Therefore, considering the price analysis and product specifications, the ELAC B5 is a more efficient option.
ELAC B5 is the recommended option currently that both products are discontinued. The B5 is about forty dollars cheaper, it is lighter and has an improved midrange and clarity as the 5.25″ driver is not beaming at the crossover, unlike the 6.5″ in the B6 that is well into its crossover causing soundstage issues.
ELAC B5 vs B6: Table With Their Specifications
A notable difference between ELAC B5 and B6 is their different sensitivity. Furthermore, the ELAC B6 is larger and much heavier.
SPECIFICATION
ELAC B5
ELAC B6
PRICE
About 150 dollars
About 200 dollars
SPEAKER TYPE
2-way, bass reflex
2-way, bass reflex
FREQUENCY RESPONSE
46 to 35,000 Hz
44 to 35,000 Hz
NOMINAL IMPEDANCE
6 Ω
6 Ω
SENSITIVITY
86 dB at 2.83 v/1m
87 dB at 2.83 v/1m
CROSSOVER FREQUENCY
2,200 Hz
2,200 Hz
MAXIMUM POWER INPUT
120 Watts
120 Watts
TWEETER
1-inch cloth dome
1-inch cloth dome
WOOFER
5.25-inch woven aramid-fiber
cone
6.25-inch woven aramid-fiber
cone
CABINET
rated MDF
rated MDF
CABINET FINISH
Black Ash Vinyl
Black Ash Vinyl
PORT
Dual flared
Dual flared
BINDING POSTS
5-way metal
5-way metal
WIDTH
7.09 in / 180 mm
7.69 in / 195 mm
HEIGHT
13.43 in / 341 mm
14.76 in / 375 mm
DEPTH
9.21 in / 234 mm
10.55 in / 268 mm
WEIGHT
13.0 lb / 5.9 kg
16.3 lb / 7.4 kg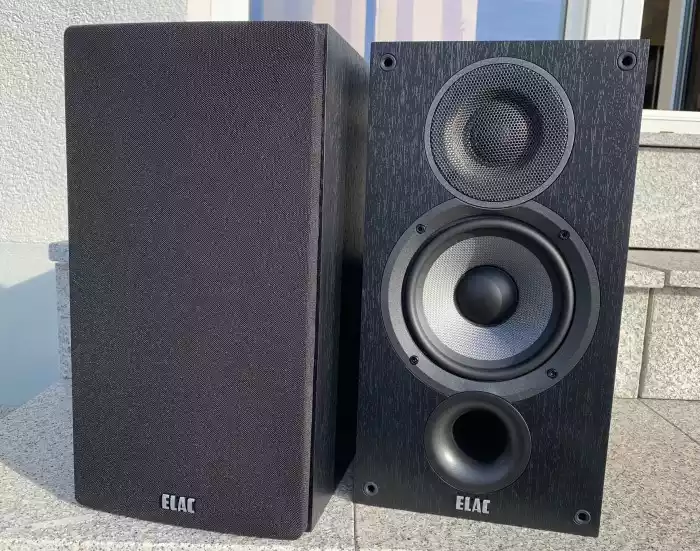 The bass reflex system on the front allows both boxes to be set up flexibly near the wall or, for example. in cupboards without annoying background noises. 
Recommended Articles
Our audience is interested in high-end devices, such as headphones with detachable cables, because you would not be losing sound quality with them.
We discuss the dirty screen effect and how to solve it. We explain to you why do we think that actually manufacturers are not really interested in solving this issue.
We explain how to choose projection screen material, for DYI projects and for large events where you would not find large projection screens in retail stores.
We have reviewed many receivers. Our recommended articles are our review of the Marantz SR7009 and the Onkyo TX-RZ820.
We have not reviewed many smart TVs. From those, however, in terms of price efficiency, I would like to recommend the Hisense B7500UW.
My favorite bookshelf loudspeaker is the Wilson Audio TuneTot and therefore we hope you like that review. We have also compared the Elac B5 vs the Elac B6, and do not think that the B6 is necessarily better in all the specifications compared.
In regard to connectivity and cable management, we discuss the connection between Firewire and HDMI.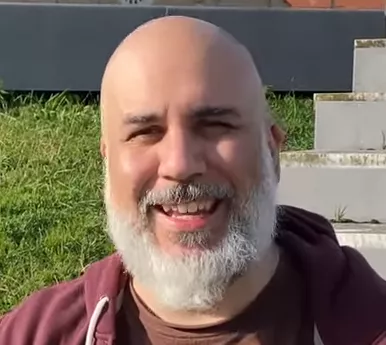 I am Chris, a musician. I work as an audio engineer in mastering and arranging bridges in existing songs and the arrangement and orchestration of chorus. In Firing Squad I test gear provided by local distributors during a couple of days and write a review. I also write about AV topics, amplifiers, speakers and headphones.