Today marks the launch date for Intel's Sandy Bridge-E line of processors, a new family of high-end Core i7 products based on the LGA 2011 platform. This new socket is poised to replace the existing LGA 1366 specification.
This is a rather uncommon and slightly unexpected article to write alright, as the architecture behind both, the X79 chipset and the Sandy Bridge-E processors really (initially) were intended for the server platform, but somehow it is finding its way toward the consumer channel.
Intel launched the P67/Z68 chipsets and accompanying four-core Sandy Bridge processors like the Core i5 2500, and Core i7 2600, and recently released Core i7 2700 as mainstream products. That means that the enthusiast segment has a gap that needs to be filled as an X58 with a Gulftown processor like the 980X/990X is already two-three years old. It's exactly there where Sandy Bridge-E and X79 come into play.
The actual release of Sandy Bridge-E is somewhat peculiar to the market… but with a thirst for high-end, all manufacturers designed and then redesigned a series of new motherboards that will blow you off your socks.
The biggest competitor for Sandy-Bridge-E, believe it or not, is the X58 platform released in 2008, pop a nice Core i7 980X/990X on there and the raw performance is still fantastic. In retrospect, as such one could say that X58/980X (Gulftown) and Z68/2600K (Sandy Bridge) have been products that might have been a little too good.
Today, however, we have an article covering the Intel Core i7-3960X (Sandy Bridge-E) and X79-based motherboard. An update to the true high-end six-core processor series aimed at consumers. A processor based on 32nm technology that comes with most of the bells and whistles we have learned to like and love of the current Sandy Bridge processor generation.
Three processors will be released; two Sandy Bridge-E CPUs will have six cores, one model has four cores, hyper-threaded to either eight or twelve threads, the AVX instruction set is here and all processors have a steep but fair 130W TDP. Then there's of course that overclocking potential that the 1st generation Sandy Bridge processors offered, it alone could make this platform downright impressive if that gets your freak on.
Impressive yes, but sure there are obstacles as well, the processor needs a new motherboard as it comes on a new processor socket, LGA 2011. That means reinvesting in a new high-end motherboard probably costing say 200~300 dollars, and then investing in a new Sandy-Bridge-E processor which is probably going to cost you a steep 900~1000 dollars for the most high-end model (which we will test today).
Before we dive into the article, let me make you aware of the fact that we test with a final sample X79 motherboard from MSI. This article will also review the MSI X79A-GD65 8D. Next to that the fellas from G.Skill provided a Sandy-Bridge-E quad channel memory kit, that blew us off our feet. 16GB G. Skill RipjawsZ series memory that with the flick of a BIOS setting to XMP runs stable at 2133 MHz — in quad-channel.
We will discuss Sandy-Bridge-E processors and their respective models. We'll also have a chat about MSI's X79 motherboard and chipset and then will throw a decent photo shoot and a benchmark suite at the products and get an indication of what performance is like with the Intel Core i7-3960X (Sandy Bridge-E) and X79 Platform.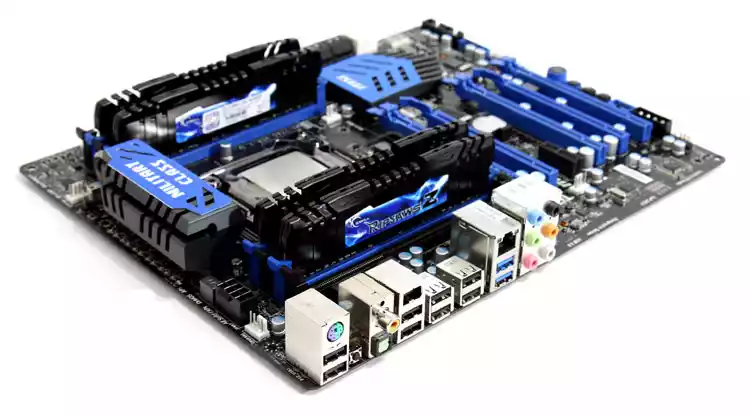 In the weeks to come you are going to hear a lot about Sandy Bridge-E, it's the all-new 'enhanced' slash 'enthusiast' version of what pretty much is the Sandy Bridge (Core i7 2600K) architecture, yet with some new features added and some others stripped away.
Simply put, you take all the good ingredients from Sandy Bridge, preferably adding two more cores, a slightly increased L3 cache, and add a pinch of quad-channel memory. There is one exception to the rule, one Core i7 Sandy Bridge-E CPU that will remain a quad-core processor.
There's also something else missing, though we doubt a little that you'd miss it in this enthusiast-grade segment. A change in the architecture is that Sandy Bridge-E does not have an on-die graphics processor built into the architecture. So if you are dependent on QuickSync as a feature then please stick to a 1st generation Sandy Bridge 2300/2400/2500/2600 series processor.
Now if you look at the die for a second with me, do you notice it as well? Yep, it seems that the new architecture is in fact an 8-core design with two cores disabled.
Intel will have a lot of flexibility in their hands alright. In this first wave, Intel is going to release three Sandy Bridge-E class processors, namely the Core i7-3960X, the Core i7-3930K, and the Core i7-3820. Each will have different clock frequencies and a slightly changed L3 cache. The Core i7-3820 is a quad-core processor, the other two are six-core processors.
Below, is an overview of the main specs.
Processor

Base Clock

Max. Turbo Clock

Cores / Threads

L1 Cache
L2 Cache
L3 Cache
Memory
Interface
TDP
Core i7-3960X
3.3 GHz
3.9 GHz
6/12
64KB x6
256KB x6
15 MB
Quad-channel
DDR3-1600
LGA 2011
130 W
Core i7-3930K
3.2 GHz
3.8 GHz
6/12
64KB x6
256KB x6
12 MB
Quad-channel
DDR3-1600
LGA 2011
130 W
Core i7-3820
3.6 GHz
3.9 GHz
4/8
64KB x4
256KB x4
10 MB
Quad-channel
DDR3-1600
LGA 2011
130 W
Core i7-2600K
3.4 GHz
3.8 GHz
4/8
64KB x4
256KB x4
8 MB
Dual-channel
DDR3-1333
LGA 1155
95 W
What's interesting from a naming point of view is that Intel chooses three different suffixes for the processors, we have an X model, a K model, and a 'normal' model. A little confusing, but it does make some sense:
The "X" suffix is Intel's Extreme Edition processors, which means the top-of-the-line unlocked processors.
The "K" suffix denotes a slightly lower-end processor yet with its multiplier unlocked.
And the normal editions are pretty much mainstream without any enthusiast-grade overclock options, meaning a locked multiplier.
Cache wise the L1 and L2 caches are 100% similar to Sandy Bridge:
32KB data and a 32KB instruction L1 cache per physical core.
256KB L2 cache per core.
The L3 cache then, Sandy Bridge has one 2 MB slice of L3 cache per core, that's 8 MB for say the 2600K processor. The Core i7-3960X tested in this article has 15MB of L3 cache, meaning 2.5 MB per core (it's a single block of cache as it's shared).
All three processors will have a 130W TDP, quite similar to the original six-core Gulftown-based Core i7 980X. We had hoped to see a lower TDP with the original Sandy Bridge processors being so energy efficient.
Casino Alternatives 
Let´s see these casino alternatives now. For 2023, the best rated online casinos are so far: Palace of Chance Casino, Cool Cat Casino, Wild Vegas Casino, Club Player Casino, Prism Casino, Ruby Slots Casino, Dreams Casino, Slots Of Vegas Casino. I will add here Jackpot Wheel Casino, Jumba Bet Casino, Casino Grand Bay, Bella Vegas Casino, Jupiter Club Casino, Lake Palace Casino. Recently, I have reviewed Ruby Fortune Casino, Royal Vegas Casino, Spin Casino, River Belle Casino, Spin Galaxy Casino, All Slots Casino, Euro Palace Casino, Jackpot City Casino, Gaming Club Casino, Lucky Nugget Casino, Mummys Gold Casino, and Platinum Play Online Casino. Recently, Conquestador Casino opened a new location. We have the new Playluck Casino investigated.
Author And Fact Check
Written by author J. Bond and fact checked by scholar Martin Pino and J. Esposito to ensure that the data retrieved is objectively correct